COVID - 19
COVID - 19 Hotel Hygiene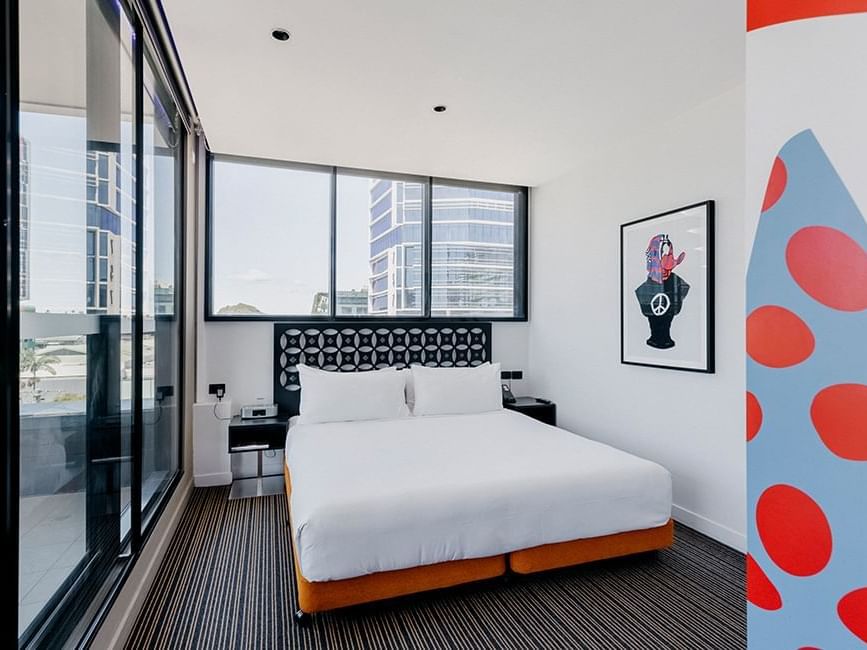 Hygiene Protocols - COVID 19
At The Constance, we always strive to make you feel at home. Our wonderful housekeeping and maintenance staff have worked to maintain a thorough and safe environment and have deep cleaned all guest and staff spaces. Clear signage is in place to guide you on hygiene and social distancing throughout your visit and we have increased the cleaning frequency of all guest touchpoints, including sanitising spaces between individual guest use.

On arrival, you will be warmly welcomed by our team. In our efforts to protect you, your fellow guests and our team, we will guide you through use of the hand sanitiser stations (on every floor, in the lift and at reception) and a reduced contact check in before you're ready to relax and explore. All guests are asked to temperature check on arrival, hand sanitise and use a QR scanner to record of personal details. We have a maximum of 2 guests in our lift and a limit of 2 guests in our gymnasium at any time. PPE is available upon request.

To protect the wellbeing of our guests and teammates, we are committed to staying at home if even slightly unwell. All staff members and suppliers will be temperature checked before entering the hotel, we practice the highest level of hygiene and maintain a safe 1.5m distance. On returning to work, each staff member will be provided with necessary personal protective equipment, a copy of Covid-19 government guidelines and are required to undertake comprehensive new health and safety training.

A clean restful space to cocoon away. When you arrive at your room, rest assured every precaution has been taken to clean and sanitize all surfaces. The Constance takes hygiene and cleanliness very seriously, and as such we and are taking steps to ensure the safety of our guests, and employees.

We closely monitor the Centre for Disease Control and Prevention (CDC), World Health Organization, and State and Federal Government advice regarding diseases.

Our hotel works hard daily, to ensure that we practice the most up to date protocols for hygiene and cleaning. Our hotel health and safety measures are designed to address a broad spectrum of viruses, including COVID-19, and include everything from handwashing hygiene and cleaning product specifications, to guest room and common area cleaning procedures.

Specific Steps:
Employee Health, Safety and Knowledge: Hotel employees – and their own health, safety and knowledge – are essential to an effective cleaning program.
Normal cleaning protocols including the use of Personal Protective Equipment (PPE) as required and vigilance with personal hygiene (i.e. regular hand washing and use of hand sanitiser).
Hand Hygiene: Frequent handwashing is vital to help combat the spread of viruses.
In our daily meetings, our teams are reminded that cleanliness starts with this simple act. It's important for their health and that of our guests.
Ongoing Training

: In addition to training on housekeeping and hygiene protocols, hotel employees have completed enhanced virus awareness training.

Information

: We work with up-to-date advice on standby 24/7 to support hotels and coordinate with local and state authorities.

Cleaning Products and Protocols

: We work with our partners (Ecolab) and other suppliers to make sure we are using approved virus-killing products. We are using proven cleaning products and protocols, which are highly effective against viruses.

Notification: If we are alerted to a COVID case, we immediately work with the relevant health authorities to obtain the facts and guidance on steps to take with both guests and employees. We undertake an additional cleaning and disinfecting protocol of the common areas of the hotel, as well as the areas we know the guests have visited during their stay. In addition, the hotel will seal the guest's room (e.g., preventing entry by staff or others) and undertake a room recovery protocol, which is designed to disinfect everything in the room including sanitising the air.

Public Areas & Leisure Areas (gym)
The Hotel has increased the frequency of cleaning and disinfecting in public spaces, with a focus on the counter at the front desk, elevators (and elevator buttons), door handles, public bathrooms and even room keys.
A hotel entrance is one of the most visible and important areas of the property and is critical to creating the right first impression of a safe environment. From the moment a guest walks through the door, they expect a level of style and quality in keeping with our brand.
Regular cleaning routine with a focus on high-footfall and high-touch areas, as hygiene in these areas is critical.

Unhygienic conditions in public amenities can lead to the rapid spread of diseases, respiratory conditions, and even intestinal disorders. Micro-organisms in sweat, urine, saliva and faecal matter thrive in poor sanitation and outbreaks can have a vast impact on guests and brand reputation.

Ensure adequate handwashing and drying facilities are provided in the changing areas, with well stocked soap, paper or linen towels and waste bins. No-touch solutions will help reduce the risk of germs spreading.

Hand and surface sanitisers provided at key locations will help minimise the risk of cross-contamination amongst hotel amenity users.

Bad odours give the perception of an unclean environment, scenting solutions are used to counteract odours.

Guest rooms:
Hygiene is more than a surface clean. Clean the dirt you can see, but also consider what is invisible to the naked eye - germs can be easily transferred from the bathroom to the rest room, putting the health of guests at risk.
Hotels use cleaning and disinfecting protocols to clean rooms after guests depart and before the next guest arrives, with extra attention paid to high-touch items and fixtures.
We are ensuring that cleaning staff are aware of the risks of cross-contamination. For example, gloves used when cleaning the toilet and then thrown away and replaced before contact with any other surface or object.
It is imperative that there is increased attention on surface disinfecting of touch points, such as light.